Carpet Installation Rhode Island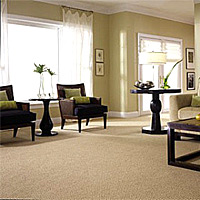 Finding a RI carpet installer and contractor is easy, simply request a free estimate and verified RI carpet installers will contact you with availability and to provide a quote.
Carpet is one of the most popular flooring choices for good reason - it is versatile, it's comfortable and warm, offers many options, and is more affordable than other types of flooring like wood.
Carpet can be used over a variety of surfaces and different grade levels, even uneven concrete basements. You can also install carpet over old vinyl flooring so you don't have to rip it up, saving you some money.
Soft and pleasant under feet, carpet provides a safe, warm, and durable surface that you can enjoy for many years.
Depending on your needs, you can choose from a soft plush option or a more durable option like loop pile that can withstand a lot of traffic - these types of carpet are specially good in stairs and hallways.
If you are not sure what type of carpet to use, your carpet installer can advise you on the best choice for a specific application.
Carpets can be installed over padding, glued down, or simply layed down like an area rug, but in this case the edges will need to be bound.
Get An Estimate On Carpet Installation
Available in a wide variety of colors, textures, and piles (i.e. plush, berber, cut pile, loop pile, saxony, frieze), carpet can be a stunning accent for your home.