Rhode Island Tile Installation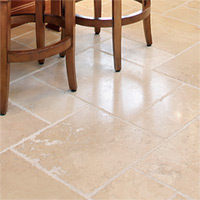 Tile flooring is one of the most popular options in floor covering hard surfaces. It is versatile, durable, comes in all kinds of colors and designs, and can be affordable.
There is a tile choice for just about every taste out there.
Tile comes in a few main types, porcelain, ceramic, terracotta and mosaic.
The many colors and sizes available can create the desired look and feel to just about any room.
Tiles are perfect for kitchens, bathrooms, foyers, commercial spaces, high traffic areas, basements, etc.
Click Here to Get An Estimate From a RI Tile Installer
What's the average pricing for a tile installation?
Tile project costs - materials plus installation - can range from $11 to $80 per square foot, although an average tile installation runs anywhere from $15 to $20 per sq. foot installed.
Common Tile Brands
Merola, Vitromex, Ragno, Florim, MSI, Porcelonosa, Marazzi, American Olean, Azrock, Dal Tile, Interceramic.